---
I had given up on trying to get the BAM Forced Arcade Mode to work on my PC with the monitor rotated 90 degrees when Miownkhan said he had figured out a way to do it! I wanted to do this because the best view that FP has to offer is "Full Table 2". FP does have an arcade mode but it is not very satisfying. We should be able to do better than "Full Table 2" because in this view the table only uses about 50% of a widescreen 16x9 monitor in landscape mode. If you rotate the monitor 90 degrees to portrait mode, you should be able to use more of the screen. In fact, I found that you actually end up being able to use 80 to 90% of the available screen space in BAM Forced Arcade Mode. I can say in practice, the display looks much better this way. My monitor is on a stand that allows it to rotate in a clockwise direction from landscape to portrait mode. I use it in portrait mode only when I use FP but Miownkhan actually changed Windows to portrait mode so everything on his PC is in portrait mode. Either way works. He figured out two views one view is with the backboard and the other is without a backboard. The reason for two views is that there are some tables where you need to be able to be able to see the backboard. Some tables have some code in the script that changes your monitor to the backboard and then returns you to the play field. This code does not work in the BAM Forced Arcade Mode so you need to build a view that includes what you need to see. Other tables have nothing that you need to see on the backboard other than the DMD which is usually at the bottom of the backboard. For these tables, you can cut off everything above the DMD on the backboard. This allows the table to be bigger.

Miownkhan prefers have his tables set at about a 7.5 degree angle on his display. For my taste, 7.5 degrees is a bit too close to a top view. I prefer about a 12.5 degree angle so I can see the objects on the table a little more perspective. This is the Addams Family table with a 7.5 degree view: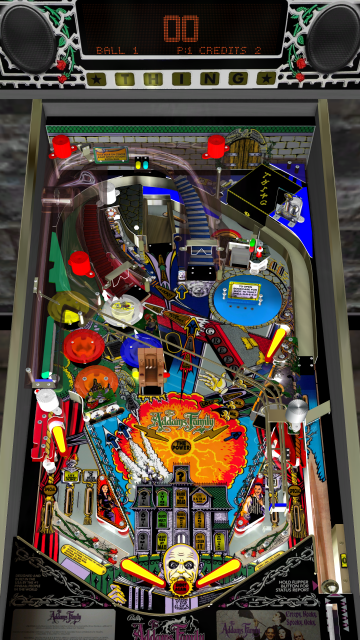 This is the Addams Family table with a 12.5 degree view:




This is the Shootanza table with the full backboard.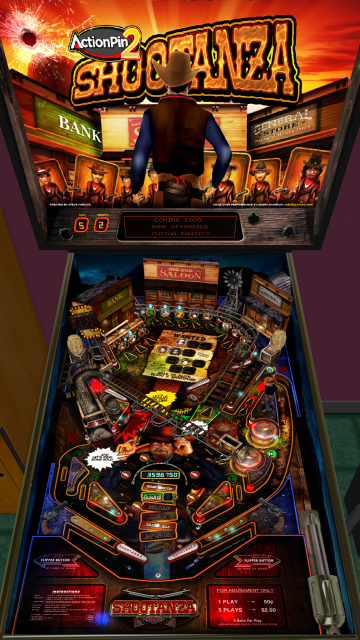 This is the Scared Stiff table with backboard. You need to see the spider on the backboard in order to play the game.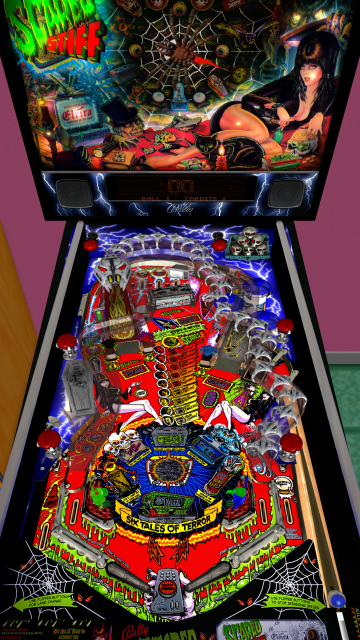 Directions for Using Bam Forced Arcade Mode on a Desktop PC with Monitor in Portrait Orientation

After you open Future Pinball, you need to make some changes to the "Video Rendering Options" located on the menu for "Preferences". You need to have "Full Screen" checked, Arcade Mode needs to be unchecked, "Aspect:" needs to have a bullet beside "Widescreen" and "Rotation:" needs to be set to 270 degrees (assuming that you rotate your screen in a clockwise rotation). Then open a table. You will want to disable the floating DMD and only use the DMD that that is on the backboard. You can usually do this by moving the DMD off screen. To do this, click on the "Select Game room/Translite View" button in Future Pinball. Click on the DMD and any overlays that may be in the upper left hand corner of the "Virtual Screen (HUD)" and drag and drop them off-screen (anywhere outside the purple dotted line). Some tables on pinsimdb.org include a cabinet version which will already have the floating DMD disabled. If a cabinet version is available, you should use it instead. Start playing the table. Rotate your PC monitor 90 degrees. After the table opens, press the "Q" key which opens the Basic Menu. This is the procedure to access the Forced Arcade Mode:
1. Arrow down to "Options" and press enter.
2. Arrow down to "Force Arcade Mode" and press the right arrow to change "No>" to "<Yes".
3. Arrow up to "Menu Type" and press the right arrow key to change "Basic>" to "Static Cam". This "Static Cam" screen is now your basic menu. You won't use the Basic Menu anymore unless you decide to go back to the Future Pinball table views. I learned the hard way to not change anything on this main screen. If you followed my comments on this thread, this is where I introduced a lot of distortion. You should leave camera position "Cam X" set to 0, "Cam Y" set to 500 and "Cam Z" set to 650.
4. Arrow down to "Config" and press enter.
5. Arrow down to "Reality" and press enter.
6. Adjust the "TV Size" to the diagonal measure of your monitor. "Units" can be set to inches or centimeters. Adjust "Mode" to "Desktop". Set "TV angle" to 0. You will only need to set this up once and never have to return.
7. Arrow up or down to "back to previous menu" and press enter. Arrow up or down again to "back to previous menu" and press enter.
8. Arrow up to "Table & Lighting" and press enter.
9. Each table requires it own settings. Note that these settings are from my desktop computer that has a 16x9 widescreen monitor. If your monitor has a different aspect ratio, you will probably need to make some changes.

These are the settings for the Addams Family table with a 7.5 degree view:
Table Translation
X: 0.0
Y: -43.0
Z: -9.0
Table Scale
X: 1.050
Y: 1.035
Z: 0.450
Table Rotation
Angle: 7.50

These are the settings for the Addams Family table with a 12.5 degree view:
Table Translation
X: 0.0
Y: -33.0
Z: 3.0
Table Scale
X: 0.960
Y: 1.095
Z: 0.590
Table Rotation
Angle: 12.21

These are the settings for the Shootanza table with the full backboard.
Table Translation
X: 0.0
Y: 58.0
Z: -297.0
Table Scale
X: 1.005
Y: 1.045
Z: 0.485
Table Rotation
Angle: 14.98

These are the settings for the Scared Stiff table with backboard.
Table Translation
X: 0.0
Y: -11.0
Z: -147.0
Table Scale
X: 1.000
Y: 1.180
Z: 0.355
Table Rotation
Angle: 18.90

10. At this point, you will want to adjust the lighting. You should have a ball in play on the table because the lighting effects sometimes change when you launch the ball. While on the "Table & Lighting" menu, scroll down to "Lights" and press enter. My monitor is set to be a bit darker than what most folks use. I have posted the numerical values that I use but you will probably need to decide on your own adjustments. I have found that there are two parameters on the Lights screen affect the lightness and darkness the most. These are "Light Source Params" Diffuse and Ambient. All the parameters on the "Lights" menu only change the playtable. They don't affect the backboard. The option for "Postprocess" on the "Table & Lighting" menu adjust parameters for the entire monitor. If you need to adjust the backboard lighting, you might try changing the "Postprocess" parameters first and then adjust the playtable on the "Lights" screen. These are the settings for Lights that I use:

Light System: FP Original (Sometimes I use New Renderer)
Preset: custom >
Light source params
Size: 1.000
Diffuse: 0.830
Specular: 0.495
Ambient: 0.305
Attenuation of main light
constant: 0.223
linear: 0.000
quadratic: 0.00
Attenuation of table lights
constant: 2.003
linear: 0.000
quadratic: 0.000

11. There are some additional options for adjusting lighting. Select the option for "back to previous menu" enough times until you return to the "Static Cam" base menu. Then arrow down to "Config" and press enter. There are additional adjustments for lighting under "Plugins". I only use SSAO here that adds fake shadows. SSAO is identified on the screen as "Type". I tend to use the "Normal/Low" setting. If you use any of the options on the plugins screen, a sign that says "PostFX" will appear in the bottom left corner of any screen in BAM when BAM is open.
12. The other lighting effects are under the "Config" menu option for "Addons". I don't use these.
13. Another trick that Miownkhan showed me was to change the option to open BAM from pressing the "Q" key to the "Pause Break" key. This helps to integrate BAM and Future Pinball a little better. This change allows you pause a Future Pinball game and open the BAM menu with the same key stroke.
13a. While on the "Config" menu, arrow down to "Redefine Keys" and press enter.
13b. Arrow down to "Menu2" and press enter.
13c. The BAM screen will change to a translucent blue.
13d. Press the "Pause Break" key on your keyboard.
13e. The number 19 will replace the "Q" entry for "Menu2".
13f. Arrow up or down to "back to previous menu" and press enter.

If for some reason you want to go back to the "BAM Basic menu" from the "Static Cam" menu, perform the steps below. I actually recommend that you don't do this because I found that your settings in the Forced Arcade Mode will be erased if you go back to the "BAM Basic menu". If all you want to do is exit the Forced Arcade Mode and display the "Full Table 2" in FP, there is a simple switch that turns Forced Arcade Mode on and off that requires a small amount of set up.

Switch that Turns Forced Arcade Mode On and Off

1. While on the "Config" menu, arrow down to "Redefine Keys" and press enter.
2. Arrow down to the last option "Force Arcade Mode On/Off" and press enter.
3. The BAM screen will change to a translucent blue.
4. Press the "+" key on the number pad on your keyboard. (I like the "+" key but there are other keys that work also).
5. The number 107 will replace the blank entry for "Force Arcade Mode On/Off".
6. Arrow up or down to "back to previous menu" and press enter.
7. You will now be able to switch between the Forced Arcade Mode and the "Full Table 2" in FP by pressing the "+" key. It doesn't matter whether you if you press the "+" key when the BAM menu open or closed.

Go Back to the "BAM Basic Menu" from the "Static Cam" Menu

Note: Be aware that your settings in the Forced Arcade Mode will be erased if you go back to the "BAM Basic menu".

1. On the "Static Cam" menu, arrow down to "Config" and press enter.
2. Arrow down to "Menu type" and press the left arrow key to change the entry from "<Advanced to get to the "BAM basic Menu".
3. Arrow down to "Options" and press enter.
4. Arrow down to "Force Arcade Mode" and press left arrow to change "<Yes" to "No>".
5. Arrow up or down to "back to previous menu" and press enter.

(Miownkhan's name is used with permission)