Well... here it finally is....
Aliens Legacy (Ultimate Badass Edition) (V1.12) (DOFLinx-Cabinet Edition)
DOFLinx mod by TerryRed 
A video demonstration of this table running on my cabinet using DOFLinx can be seen at:
https://www.youtube.com/watch?v=yvaBDJWFbgE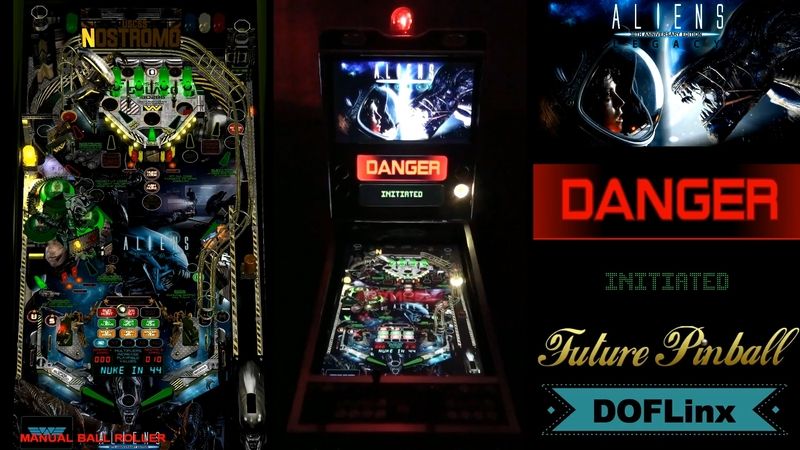 Link to table on pinsimdb:
http://www.pinsimdb.org/pinball/table-2 ... ss_edition
)(doflinx)
Man, this mod was alot of work, but alot of fun....but only because this table has so many cool modes and features.... 
You have never seen a Future Pinball table with this kind of feedback and lighting in a cabinet! 
I added animated RGB flasher effects for: 
-machine gun turret fire
-grenade explosions
-nuclear explosions
-flame thrower
-blow torch
-custom flasher sequences to match those of the table's
-orbit (spinner?) effects
-ship drop sequence 
I made use of some combined effects like shaker / blower fan / lights. 
Devices supported on this table: 
Left flipper
Right flipper
Left slingshot
Right slingshot
Mid field left solenoid
Mid field center solenoid
Mid field right solenoid
Back left solenoid
Back right solenoid
Flasher, outside left
Flasher, inside left
Flasher, center
Flasher, outside right
Flasher, inside right
Blower Fan
Shaker
Gear Motor
Strobe
Beacon
Start button
Coin button
Launch Ball button
FIRE button
RGB Undercab Lighting  
I had to use 14 Timers and sub routines to match up some effects with video clips. 
The table is a bit hard....but if you can progress, you'll be rewarded with a nice light show and some good feedback. 
Let me know how this works out for you guys...and show me some videos of this running in your cabinets! I want to see what these effects look like with a normal 5 rgb flasher bar!
I've uploaded the table to PinSimDB....just waiting for a mod to approve it.
DOFLinx information and Setup:
DOFLinx - "A powerful utility for cabinet owners to make the most of force feedback and lighting." - by DDH69 
This Future Pinball table has DOFLinx commands added to it. This will enable support for pinball cabinet force feedback devices such as solenoids (flippers,bumpers,slingshots,drop targets,etc), RGB lighting and flashers, beacon, strobes, blower fan, shaker, FIRE and other buttons lights, and more! This will work with Led-Wiz, Sainsmart USB, PACLED64, and KL25Z.  
Requirements / Installation:
Regardless of using this table with force feedback (Pinball Cabinet) or without (Desktop), you MUST install the current DOFLinx.vbs script into your 'Future Pinball\Scripts' folder. Running the table without DOFLinx.vbs will cause an error. (FF_INIT) 
DOFLinx.vbs is included with the DOFLinx install package. This file is not included with this table to avoid version mismatches. 
DOFLinx install package download:
The current download of DOFLinx can be found through this post at vpforums: 
http://www.vpforums....showtopic=35852
It is recommended to use this table with BAM (Better Arcade Mode), in order to get the most accurate version of physics intended for this table. Copy the *.fpt and *.xml within this archive to your "Future Pinball\Tables" directory.  
Cabinet Use:
For cabinet users running DOFLinx: This table will function with the in-game sounds for mechanical devices such as flippers, slingshots, bumpers, etc muted.  Instead, you will only hear your cabinet's feedback devices for those actions. The rest of the game's sounds will play normally as intended by the table author. 
Desktop Use:
For desktop users: This table will still function normally without the need for DOFLinx to be running or installed (read "Requirements / Installation"). It will play perfectly with the original in-game mechanical sounds playing through your PC's speakers. Note: Any DMDs or HudOverlays intended for desktop use were moved out of view so that they will not appear on the playfield (this was intended for DOFLinx cabinet use) . 
Night Mode:
For cabinet users who want to play at night with their cabinet noise makers turned off, this table can be toggled between Cabinet Use (noisy), and Desktop Use (Night Mode). Please consult the DOFLinx guide (included with the DOFLinx install package) for more information on how to use Night Mode. 
Please read Requirements / Installation to setup DOFLinx. DOFLinx feedback requires Direct Output Framework R3 (DOF) installed and working. 
I hope you enjoy the first Future Pinball Aliens Legacy cabinet feedback and lighting experience! 
SLAMT1LT gave permission to mod and host this table. - TerryRed 
For SLAMT1LT's newest versions of his tables (without DOFLinx support), goto his website: 
http://speak1970.wix...pinballemporium