So I've been making great progress so far.... got all my parts except for beacons. One of my solenoids is broken, so it's 9 only for now. (I don't know when a shaker or gear motor will happen.)
Even got it all working in the cab with a mock-up via DOF which is working great. Most of the wiring is good to go. I even setup a kill switch for the 12v going to the sainsmart relay board and anything mechanical for a "night mode", while still allowing for 12v for anything else light related.
Here's the board before it's put into the cabinet. It may not be the prettiest, but it allows me access to everything while having all outputs of the led-wiz fused, and having the led / strobe output closer to where they will be to accommodate the limited rgb wiring I have. The Teensy for addressable leds will be on my PC board. I'll still have plenty of room for future stuff, even if I need to stack boards.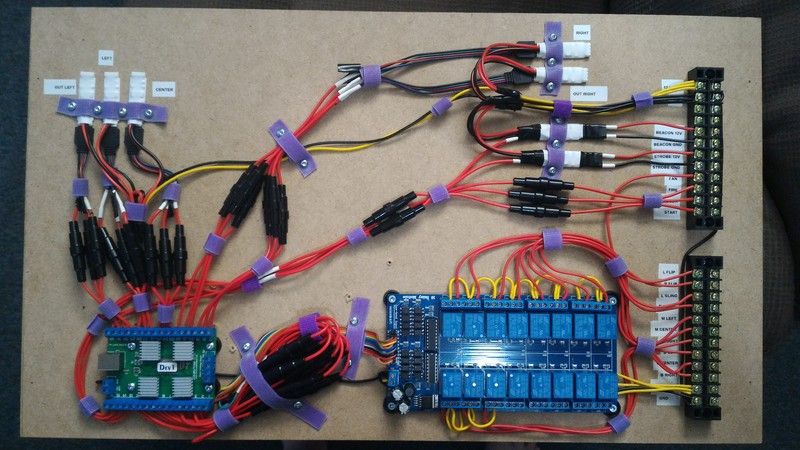 Here's my mockup with everything except for solenoids connected (no beacons, and a small test fan in the pic)....but I can still see the relays working to confirm they will work. I have the left and outer-left flashers in my left speaker hole, and the right flashers in the right speaker hole, and the center on the led strip for now.
I also have my FIRE button working on the arcade control panel, and I have it combined with the launch button in DOF, since you need to use the launch button to "FIRE" in VP anyways.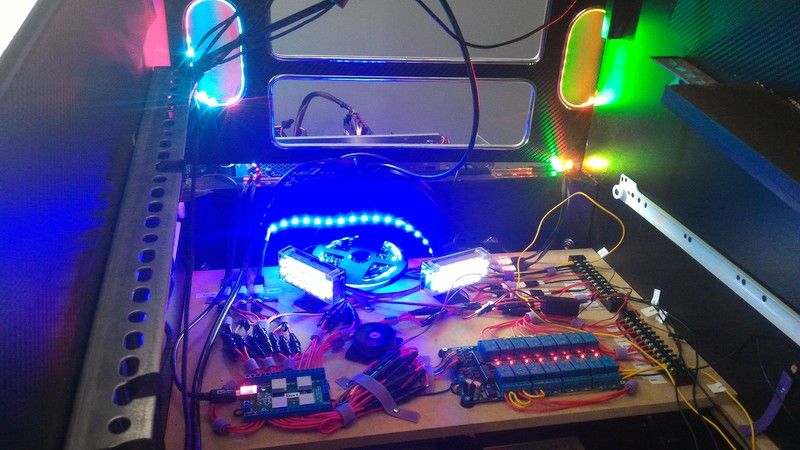 DOF is pretty damn impressive! Some amazing work done by swisslizard and arngrim!
Since I don't have 10 solenoids, I can just combine the rear center and the middle center for now. It also frees up an LED-Wiz port.
I also have an atwood 3000 blower fan. Man it works great, but sure is loud! Very cool the way different tables make use of it. The noise is going to be better when used with a hose.... which gets me wondering on where to mount it!
I'm definitely considering mounting it inside (like randr did), as it fits perfectly in that spot before my coin door. (I removed my coin door mech as I don't use it and I have only one coin slot) I was going to have it blow out through the coin eject hole with some kind of upward scoop. Or maybe I might still mount it on top of the cabinet....or behind the cabinet blowing up through a hose / vent at the top of the cabinet with a finished topper...
I also would like a simple way to adjust the voltage going to the fan...12V is pretty loud...5V is too slow...so maybe just a simple way to get in between with some kind of pot / switch. I don't have an H-bridge or anything else that would allow me to use PWM right now....maybe if I get a shaker down the line.
Any suggestions would be great..
Also....we just found out that we have bed bugs in the house.....AAAAAAAH! We think my son brought them back from his grade 8 school graduation trip! So now my progress is slowed down considerably, cause we have to purge the house and live in hell for a month or so (and its going to cost alot)
....and it was going so well too!